My Lawyer in Spain
Testimonials
At My Lawyer in Spain we pride ourselves on delivering a high level of service for our clients. Don't just take our word for it, see what they are saying about us…
"Rosario,
I would like to thank you very much for the hard work and superb legal expertise that you showed in our recent case. Everything was concluded to our high satisfaction – both winning the case and in the very short timescales it took to get a resolution. We remain very impressed with the super service and support that we have received from you. Thanks again!"
D. M. – June 2020
"From meeting Alex at a Place in the Sun Expedition in Manchester we knew that once we got the ball rolling with our hunt for a property in southern Spain, Alex and his team would be the company to use. He put us at ease from the off, from arranging the power of attorney, NIE numbers and a bank account to the completion of the property we purchased.
Excellent and very efficient service from all the team, would highly recommend to anyone looking for a lawyer in Spain to get in touch. Thanks again to all the team."
Dave & Michelle – June 2020
"We have no problem recommending My Lawyer in Spain. Though out the whole process Isabel and her team were absolutely fantastic. Every issue and concern we had, was dealt with smoothly and professionally. They took us through the whole buying process, obtaining NIE numbers, bank accounts and conveyancing to completion. You can find https://mylawyerinspain.com on the https://aplaceinthesun.com website."
Terry and Katia – June 2020
"I was advised to use MLS by my English lawyer in order to settle a Spanish probate and the sale of a Spanish property on behalf of my sister who lost her husband in 2019. Initially I spoke to Alex Radford who was very professional and understanding and he passed me on to Patricia Ruiz who dealt with matters thereafter. She was excellent throughout and, without fail, dealt with everything in an efficient and very knowledgeable manner. I cannot praise her and all concerned at MLS highly enough, especially as the conclusion of matters was interrupted by the Corvid 19 pandemic."
L. G. – May 2020
"Debbie, Alex
Thanks so much again for a perfect service from the MLS Team."
Mr and Mrs Bonner – May 2020
"We are so pleased, thank you for all the help and work you have done, especially in the last few weeks with this awful virus.
I hope that you all stay well and safe and looking forward to hearing from you.
Please take care for now."
Mr and Mrs S- April 2020
"I wanted to send you this email to say a big thank you for your help and that of your colleagues, specifically Patricia, Monica and Debbie, since we asked you to assist us with our house purchase here in Spain plus our Wills, Residency and Driving Licences. Indeed, the last of our driving licences arrived in the post this morning!
Everyone we have engaged with at My Lawyer in Spain have been tremendously helpful and supportive throughout the past 11 months or so, since we first met yourself at the 'A Place in the Sun' exhibition in Manchester in March of last year.
We therefore thought it only right that we should send you this note of thanks and appreciation for everything you and your team have done for us.
It has been an absolute pleasure and we will of course pick up the phone should we need any further help, going forward, now that we have settled into our life in Spain.
So please pass on our sincere thanks to all of your colleagues!
Very much appreciated by both of us!"
Mr & Mrs M (Two very happy customers!!) – February 2020
"Alex and MLS were recommended to me in 2018 after not having any luck with 3 previous lawyers to legalise/regularise my property. He started the process straight away, then in 2019 I was fortunate enough to get a buyer and thanks to Alex all paperwork and legalities were sorted for the completion date! I would definitely recommend Alex and his team at MLS."
Mrs H – February 2020
"Thank you for all your help and assistance, you have made it a very easy and painless process from start to finish and so pleased we met Alex at the Place in the Sun."
Mr and Mrs Cooper – January 2020
"I have taken specialist advice on a complex cross-border issue from Alex Radford of My Lawyer in Spain on behalf of my client, a Professional Deputy. I found the advice and service provided to be excellent. Alex was able to use his expertise and local business contacts in Spain to carry out instructions promptly and effectively, with concise communication and at reasonable cost."
Mrs G Powrie – Associate Solicitor – January 2020
"Brilliant news that we have completed! Thanks very much for your reliability and professionalism throughout this process"
Mr H (sale of Spanish home) – December 2019
"Thanks to all for the outstanding support and service throughout our buying activity"
Mr & Mrs Bromby – December 2019
I wish to thank you for your due diligence in dealing with this matter I know it hasn't been easy with all the delays etc but you got there in the end I am so grateful!
Mrs J – October 2019
Many thanks for your kind words and hard work with this purchase of our Spanish home.
Mr & Mrs K – September 2019
Thank you for all the help and assistance with our house purchase in Murcia.
Mr & Mrs A – August 2019
Sale of property – I am feeling truly relieved that all has gone so smoothly and cannot thank you enough for your supportive and efficient service.
Mrs H – June 2019
We would like to thank you and your team at My Lawyer in Spain for the fantastic service we received when purchasing our house. You made the whole transaction extremely stress free and we would both like to thank you for helping to make our dream come true.
Lynda Crawford and Terry White – June 2019
As always have received excellent service from My Lawyer in Spain regarding a claim. Took time and much patience from Rosario but we got the required result! Cannot recommend My Lawyer in Spain enough! We trust them for all our legal needs – from house purchase to residency! Thank you all.
D.P. – June 2019
"Thank you for all your help and guidance leading to a successful conclusion in obtaining our Spanish residencies!"
Mr & Mrs A – May 2019
"To anyone who are considering using My Lawyer in Spain, my husband and I would just like to say we are so very pleased with service we received from this company. We have been fully guided into all the correct procedures from start to finish when we purchased our apartment in the Costa Blanca. We would especially like to thank Patricia Ruiz and her team in the La Zenia office for all their hard work and making the whole process run smoothly, including making our Spanish Wills which are now all complete thanks to them. Hope you enjoy your new Spanish home as much as we do."
Dave Hughes – April 2019
"From our first meeting through to completion the whole process was made very easy by you and your team.
Many thanks once again for excellent and very efficient work for us. We would have no hesitation in recommending "My Lawyer in Spain" to other prospective clients."
Paul and Anne Taylor – April 2019
"Amazing support, very knowledgeable, professional service, and great ethics and care factor. Isabel has been with us along the whole way of purchasing a house in Spain, and I have no hesitation in recommending her services to other investors."
Wouter Jellema – April 2019
"Thank you and all your colleagues for making the purchase of the apartment in Torreblanca so easy and stress free for my wife and myself."
Mr Geary – March 2019
Fantastic service. Isabel explained the whole process of probate application in detail from my first email which is why I choose My Lawyer in Spain. Isabel guided me through the process throughout and responded quickly to all my queries. Thank you very much for making this difficult process a little easier.
Lee-Anne Widnall – February 2019
"Thank you for all of your and your colleagues help and assistance in our property purchase, we will gladly recommend you to family and friends that look to purchase property in Spain."
Graham and Denise – February 2019
"We had a property to sell in Almerimar which was to be signed for in under a week at the Notary. With such short notice and unsure of the legal process we travelled to Marbella to meet Alex at My Lawyer in Spain.
We were so relieved to meet him as he went through the process and took all the paperwork required and took complete control of everything so we had very little to worry about.
On the day at the notary Alex was the first to arrive yet the furthest away, it went even better than we expected and without any issues with payment a few days later once the buyers cheque had cleared.
Alex is an absolute gentleman and true professional and we would definately use his services again and we would recommend him and his team
A definite 10 out of 10 – you will not be disappointed."
Sue Knowlts – February 2019
"I just wanted to say thank you to you and your team for facilitating the purchase of our property here in Torrox.
We have been very grateful that you have guided us through the process and taken care of all the bewildering details and got to the deadline on time, despite some significant challenges along the way.
It was great to meet you 'in the flesh' this morning. It has been good to have such a personal service, including tips for restaurants!
Please pass on our thanks to your team, especially Patricia, who I know did a lot of the work behind the scenes."
Trefor and Mandy Williams – February 2019
"We had never bought a house abroad before and undertaking a Spanish house-purchasing process was a daunting prospect – that was until we discovered a gem of a solicitor, Isabel Perez, who explained how it worked and helped us at every step of the way. Isabel was exceptionally prompt in replying to our numerous questions and her advice was always sound. Isabel executed all matters relating to the house purchase, as well as getting NIE numbers, setting up a bank account and organising the services for our apartment. Knowing Isabel was there took the stress out of the process and we cannot recommend her too highly.
We will certainly be using Isabel's services again."
Lee Alford – February 2019
Fantastic service. Isabel explained the whole process of probate application in detail from my first email which is why I choose My Lawyer in Spain. Isabel guided me through the process throughout and responded quickly to all my queries. Thank you very much for making this difficult process a little easier.
Philip and Jane Burnham – January 2019
"Just want to say thank you to My lawyer in Spain! You are a very honest caring company, and have even refunded an over payment I did not realise I had made when I bought my house on the fees, I'm very impressed! My will has also been made professionally and given me piece of mind! Top job!"
Peter Findlay – January 2019
"I am continually grateful for all you have done during and also after our purchase. You really have been amazing and it takes a lot of pressure off knowing you are there.
The service we got from Alex and Patricia at the time of our purchase was professional and efficient which made the whole buying process so much more stress free.
We have continued to use Alex and his team over the last couple of years for advice on tax and other issues. So grateful to have found this amazing people who are there for you every step of the way.
Take care and many thanks Alex!"
Karen – December 2018
"You have all made the process of buying in Spain a great experience, all my family are enjoying there time there."
Thomas Mckenzie
Alex,
Thank you so much for your work on this, it is greatly appreciated – as corny as it may sound, you have helped us make a dream come true. Everything you and your colleagues have done in regards to this sale have been prompt and efficient and I would not hesitate in recommending your services to anyone wishing to buy in the area.
Mark and Charlotte
I can not recommend Rosario Génova Alguacil at My Lawyers in Spain enough. After 3 long years of being fobbed off by a previous lawyer to get an overpayment returned which was over 5,000€ and also a personal contract which had not been fulfilled (9,000€!)
Her prompt and professional attitude had my bank balance well and truly boosted within only 10 – 12 weeks! A couple of those weeks was down to myself for not responding quickly.
Whatever your problem don't hesitate to be helped and guided through, in a discreet, prompt and professional service by Rosario.
If you want to contact me personally to validate the above, my contact information can be obtained from Rosario.
B. Clough
"Brilliant lawyers who made buying a house in Spain very easy. Always a rapid response and has everything completed in a matter of weeks. Thanks to Alex and many thanks to Patricia who was fantastic!"
Yasmin Roworth – June 2018
"I was very happy to meet Alex, who helped me with some UK documentation recently. Speedy and attentive service. Have already recommended him to a couple newly arrived on the Costa del Sol
Jane Gould – June 2018
"Needed an English lawyer in Spain to witness probate documentation. Alex and his people were helpful and professional, everything sorted quickly. Not cheap but worth the money.
Jane-Ann Williams – April 2018
"Alex did a fantastic job of getting us our home in Spain. Would definitely recommend."
Melissa Pordage – March 2018
"We completed the purchase of our Spanish property, in Canillas de Albaida, a couple of weeks ago and used Alex Radford and Patricia Ruiz as our Spanish Lawyer/Abogado.
Both my Wife and I are 'risk averse' and we can honestly say that Alex, Patricia and all Staff at My Lawyer in Spain have been superb.
The advice given was brilliant and, if anybody reading this is contemplating a Spanish property purchase, then My Lawyer in Spain are the people to help you achieve your dream.
Alex and Patricia helped us achieve our dream and we will always be eternally greatful. We are proud to have met them and they became friends, not just our legal representatives."
Craig Nickeas – May 2017
"I want to thank Rosario for your excellent advice and action that has resulted in me recovering a fair settlement on the money owed. Always confident and smiling, when others have said that it's a waste of time and money, My Lawyer in Spain have come through with success. Thank you very much and I won't hesitate to recommend you for Court work in the future."
Campbell D Ferguson
"Thank you Alex and Patricia once again for the excellent service you afforded us in completing the sale of our property. To say the least, we were pleased both by your professionalism and the quality of service"
Matt and Myra McGuigan
"I currently have your firm representing me, and have to say great work detecting few issues by Lawyer Isabel Peréz Blanco. Could not go through this buying process without you! Really useful & informative emails you send me too re Brexit etc! Reassuring and thanks"
Peter Findlay
"Thank you and all at MLS for all your hard work and making the purchase a relatively stress free experience. We highly recommend your firm to anyone who wishes to buy property in Spain."
Mark Homer and Tracey Oliver
"Thank you doesn't seem enough for the help, support and guidance you in particular and your colleagues have provided through the purchasing process. It is much appreciated."
Cliff and Sarah
Thanks very much for your service it has been great and we would highly recommend.
Thomas Mckenzie
Patricia,I would like to take his opportunity to thank you, Alex, Estrella (accounts) and Rosario (litigation) at My Lawyer in Spain for the fantastic support and guidance offered during our recent Spanish house search.We have been able to completely rely on your advice, communication, proffesionalism and integrity to manage us through this process. I would recommend MLS to anyone that requires a legal partner, that they can trust and depend on.
Martin
I would highly recommend Rosario from My Lawyer in Spain who looked after me so well during a very painful and distressing divorce.
Her excellent knowledge of the English language made it easy to deal with the two countries involved. I was living in Spain and my ex partner in the U.K.
Rosario gave me amazing support at all times with step by step assistance. I valued her clear approach when facing serious challenges which all resulted in a very good settlement for me.
Thank you so much Rosario.
SB, Malaga
"My husband and I had dreamt of buying a property in Spain for a while but we were a little anxious about the fact that we were resident in the UK and so not able to meet a lawyer face-to-face. We decided, therefore, to visit a Place in the Sun Exhibition where My Lawyers in Spain were present and, in fact, participating as one of the main speakers. After listening to the presentation, we decided to talk directly to one of the lawyers from that company. This was our initial meeting with Isabel Perez-Blanco.
From the first moments of our conversation, we felt that she was extremely knowledgeable, competent and enthusiastic about her profession. Isabel explained the whole process in a clear, concise way which gave us both a welcome feeling of reassurance. No question was left unanswered and she even pre-empted many of our concerns. By the time we left the exhibition, we felt much happier about proceeding with our dream purchase!
We decided to choose My Lawyers in Spain, based on the fantastic meeting we had had with Isabel, and she became our lawyer for the purchasing process.
Throughout the process Isabel was exemplary! We needn't have worried about the fact that she was in a different country. All correspondence was dealt with extremely quickly and any concerns addressed. Answers to questions were explained clearly and with a very good amount of detail, when required, and she even phoned us, prior to our departure for the completion, to ensure that everything was ready. Nothing was too much trouble and she instilled reassurance and confidence in us both.
We would highly recommend Isabel to anyone wishing to purchase a property in Spain. Many, many thanks for helping us achieve our new adventure!"
Sue and Martyn Jones
"The very first thing that everyone looking for a property abroad needs, is an independent lawyer who has your total trust. It is easier said than done however, I am delighted to say that is exactly what we got with Alex and the team throughout our journey to buying our apartment in Calahonda. They made a stressful process very easy and we had absolute confidence in them, as well as knowing they always had our best interests at heart during every transaction.
Buying a foreign property is a tricky process, so your lawyer is your number one asset. We have no hesitation in recommending Alex and the team to others who are considering buying a foreign property. Speak to them at the earliest stage (as we did) and you will not be disappointed. I guarantee you will sleep better knowing they are representing you!"
Derek and Denise Robertson, Scotland
"We couldn't have wished for a better lawyer. Both Patricia and Alex have been impressively professional, efficient and also re-assuring when we showed concern, which has been of great comfort especially when it's your very first property purchase outside the UK. So thank you & your team for a job very well done!"
Mr. Stringer and Ms. Hindley
"Straightforward clear advice from the very first point of contact with MLS until final completion of our penthouse purchase 5 months later.
Patricia was simply amazing at quickly investigating and resolving our many concerns about buying a property in Spain from both a legal and practical pint of view.
Her advice on due diligence gave us the confidence to proceed through many obstacles like getting hold of and explaining the various Town Hall documentation legalities in simple terms, negotiating an extension to our contract if we needed it, ensuring all amenities were working from the day of completion etc
We were probably pretty awkward customers asking far too many questions as 1st time buyers abroad but MLS had all the answers!
Alex and Patricia and Estrella make a fabulous team supporting and negotiating hard for their customers!
It was a huge relief to have MLS act as our power of attorney – we all have demanding jobs in the UK and would not easily have been able to all attend in person to undertake the various signings in Spain during the 5 month process of buying.
As I write this sitting here in our new penthouse looking out over both the sea and mountains on a warm sunny November day the sheer joy of now finally owning a place in the Spanish sun has made it all worthwhile! This truly has been a life-changing decision for us all!
We would heartily recommend MLS to anyone considering buying their own place in the sun. No.1 piece of advice "get a good responsive Spanish and English speaking lawyer with a strong track record who also understands the culture, language, bureaucracy, risks, pitfalls and solutions (as well as all the legalities) of buying a property in Spain – get MLS!"
Mr Sweeney
"Thanks to you (Alex) and Patricia for all your hard work in assisting with the purchase of my first home in Spain. I am pleased I chose an independent lawyer due the the registration issues you found and had rectified by the seller.
Happy to recommend your company."
P McBride
"My wife and I had been thinking of purchasing a property in Spain for some years and although we were excited about the prospect of having a second home in the sun we felt some apprehension when considering the legal aspect of the purchase. We meet with Isabel from My Lawyer in Spain at the Place in the Sun exhibition at London Olympia, where her company were one of the main contributors. After a brief discussion it was evident that Isabel was highly skilled and very experienced in International law and we left the exhibition feeling confident that we had found our lawyer to deal with our purchase. Very soon after the exhibition we found a property in Almerima and spoke again with Isabel. The conveyancing process was made very simple, was well explained and we felt in control and informed at every stage of the process. As is the process of conveyancing there were a few small bumps along the road with the vendor but Isabel dealt with these with absolute professionalism and in many ways went over and beyond our expectation. We now own a wonderful new home in Spain.
My Lawyer in Spain is clearly a busy practice but my wife and I felt as if we were their only clients. If you are looking for a lawyer to manage your international property purchase or any other legal matter, we can highly recommend My Lawyer in Spain, they are professional, knowledgeable and very experienced."
Mr. & Mrs. Thomas
"Many thanks to all involved and for all your help and professionalism. You've made this experience far easier than we expected!
We would definitely recommend you all to anyone buying in Spain and shall do."
Marianne & Mark
"I would highly recommend the use of MLS Lawyers after a totally faultless and professional property conveyancing service. My wife and I had reservations when buying a property In Spain, but Isabel Perez was so professional and very responsive at all times, we couldn't believe how easy it would be. Hope to buy again in Marbella and would have no doubt who we would use"
Mr Bartram
"We completed the purchase of our Spanish property, in Canillas de Albaida, a couple of weeks ago and used Alex Radford and Patricia Ruiz as our Spanish Lawyer/Abogado.
Both my Wife and I are 'risk averse' and we can honestly say that Alex, Patricia and all Staff at My Lawyer in Spain have been superb.
The advice given was brilliant and, if anybody reading this is contemplating a Spanish property purchase, then My Lawyer in Spain are the people to help you achieve your dream.
Alex and Patricia helped us achieve our dream and we will always be eternally greatful. We are proud to have met them and they became friends, not just our legal representatives."
Craig and Lynn Nickeas
"Thank you both for your excellent and efficient service enabling us to complete the house purchase last Friday. Thank you also for answering our many questions regarding ownership, house number and floor area etc."
Jean and Alan
I would just like to thank you Alex and Patricia for your help in this Spanish property purchase, I am very pleased I used both you and your firm, and would not hesitate to recommend your services to anyone contemplating a purchase in Spain."
Mr & Mrs Flowers, Durham, England
"Many thanks for your professional support in the purchase of our apartment in Malaga. I always felt that I was in good hands and that the process was under control. Plus you are clearly both very nice people!"
Mr Geever, Holland
"I would like to thank Alex Radford and his team for helping us with the purchase of our condo in Granada. Since we do not speak Spanish it was imperative to work with a lawyer who is fluent in both Spanish and English. Even though there were difficulties to overcome, they were professionally taken care of by Alex and his team. Both Alex and his assistant, Patricia, placed a lot of emphasis on attention to detail, timely communication and preparation that left nothing to chance, and they did so in a pleasant and patient and manner. I really don't know how I could have made it without them.
Alex also prepared our Spanish wills.
I would recommend Alex Radford's practice to anyone seeking professional, efficient and responsive real estate representation in Spain."
Zbigniew Blaszczyk
"I would like to take this opportunity to thank you for all your help and assistance with this purchase, it has been greatly appreciated by us both. Having been nervous about buying a property overseas your team soon put our minds at rest at the Place in the Sun exhibition in Manchester. Once we found our property you explained the process and were always available to answer any questions we had, even after completion, making what we had expected to be a stressful process go very smoothly."
Mr & Mrs Crick
"Thank you so much for the smoothest closing we have had in the 8 homes we have purchased and sold in the past."
Martin Hayes
"I recently requested the assistance of My Lawyer in Spain to help with the purchase of a parking space and store room in our urbanisation. Although I've lived and worked here for many years and have a lot of relevant experience, I always recommend instructing a lawyer, as you can never be sure what you may find. From the start, Patricia Ruíz handled all aspects of the work quickly and efficiently, keeping me in contact of the progress with regular updates. I had little more to do than turn up at the notary at a date agreed with the vendors. Money was paid on account and Patricia informed me that there may be some money to be refunded after the balancing of accounts. I received a PDF of the title deeds the day following the appointment at the notary and thereafter arranged to collect the originals. When Patricia informed me of the amount of the refund and it was paid immediately by bank transfer.
I would definitely recommend using My Lawyer in Spain as they made the task simple and easy to understand and were always quick to respond to any questions by email or phone. The fact that they are very friendly and nice is just an added bonus!"
Lousie M.
"We have now spent a couple of days in our new fab pad in Malaga city.
We cant thank you enough for helping us get our beautiful apartment. We are beyond excited and still cant believe we actually managed to get somewhere after all our previous mishaps.
The service we got from you has been nothing short of excellent. We only hope that others thinking of purchasing in Spain get to you first to help them achieve a positive outcome.
Take care and a million and one thanks!"
Karen and Aidan
"Angie and I would like to say how much we have enjoyed working with you (Alex) and Patricia and I know you both have put in a lot of hard work on our behalf which resulted in a completely painless procedure to purchase the property and so would like to say very big thank you to you both for all your efforts.
I am sure we will stay in contact over the coming months and years as we will rely on you for solid advice as and when we need it."
Mr R Mrs A Peill
"David and I are very pleased with the efficient, thorough and friendly service that you have provided. We would have no hesitation to recommend your services to anyone buying a property.
Look forward to seeing you soon to sign off the wills and to receive the deeds.Hope you can find time for a quick beer with us."
Mrs J & Mr D
"Very efficient, friendly and helpful service. I was always given answers to my questions and nothing was too much. Professional in every respect. I would not hesitate to use them again."
Mr. G
"You've been such an amazing support, we're thrilled we met you and will be referring you to our friends and people we met.
In fact we talked about you tonight at our Spanish course!
Thanks again, you made things really personal and simple – a fantastic experience."
Mr & Mrs H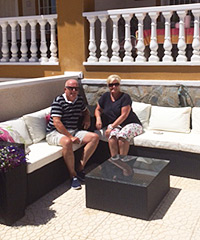 "Ivan and I would like to take this opportunity to thank you for all your patience and assistance over the last few months.
As you know, moving home is stressful, but relocating to another country even more so.
I have always had the peace of mind that I would be looked after when my friend reached out to you, Alex- that has been worth its weight in gold having that comfort.
Dear Antonio, many many thanks."
Mr & Mrs T
"We visited Malaga to explore the options of establishing a back office to support our international IT estate and infrastructure. The team from the PTA (Technological Park of Andalucia- Malaga) and Malaga City Investment department did a fantastic job in introducing us to English speaking professionals who could work with us to establish our business.
We had no hesitation in instructing the business team headed up by Alex Radford, an English Solicitor & Spanish abogado, from My Lawyer in Spain. The business processes were easily explained to us, a plan of action and timetable was agreed and I am pleased to say that the business team performed an excellent job in working with us to implement this.
Our English employment contracts were adapted to Spanish law as was our employee handbook, a local company incorporated, bank accounts opened, the rental agreement negotiated and signed along with a contract to design and furnish our new offices. All of these tasks were conducted efficiently and professionally.
If you are looking for business lawyers to work with in Spain, then I would strongly recommend that you talk to My Lawyer in Spain."
Gary Lumsdom, ITRS Group
"My thanks to everyone for completing our Wills so quickly. Excellent service which I shall recommend to all our friends in Spain."
Mr Davies
"Just a short note of thanks for your help and guidance yesterday! We really appreciate all your help over recent months and are of course very happy with the successful conclusion!"
Nick K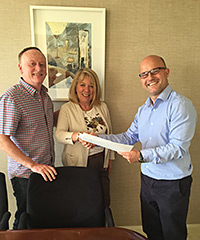 "My wife, Lynne, and I enjoy so much living in the Scottish Borders where we are surrounded by natural beauty. However, we had been considering purchasing a property overseas for some time. After careful consideration, we decided to purchase a property in the sun, where the weather is more reliable which allows you to get outside more and actually do things.
Andalucía, serviced by several airports, including Málaga, seemed the most adequate destination for us. There are regular flights throughout the year from our region, allowing us to take trips rather spontaneously. We attended the "A Place in the Sun 2014" exhibition at the NEC Birmingham, where we met several lawyers representing different companies including Alex Radford from My Lawyer in Spain. We had produced a criteria for selecting our lawyer, which we'd strictly adhere to. We wanted an experienced lawyer, who was professional, personable and spoke both English and Spanish. We established that Alex is both a qualified English Solicitor & Spanish Abogado, having lived and worked in England but been located in Spain for over twelve years. This gave us the confidence we needed to choose Alex as our lawyer for our property purchase. Alex always replied promptly, even organising a Power of Attorney on a moment's notice so that he could act on our behalf when we got back to the UK.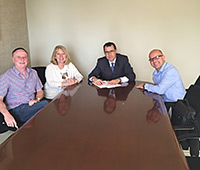 Whilst staying in Benahavis on a property viewing trip, we were very fortunate to make contact with a new Estate Agent, Properties Spain, which is headed up by Scott Marshall. Scott and his team offer a personal and advisory service and only deal with properties within the territory of Benahavis, so they have established a great deal of knowledge of the area. With the support of Scott and his team, we viewed a number of properties in various areas of the village. On 15th January 2015 we viewed a property with Scott that matched all 14 points of our property criteria. With the thorough and professional support from both Alex and Scott, we completed the purchase process, signed for the house and moved in on 4th March 2015."
Paul and Lynne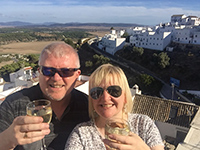 "We would have no hesitation recommending My Lawyer in Spain to anyone thinking about buying a Spanish property.
Rosario was so helpful, keeping us informed at every stage and explaining the purchase process very clearly – our non-existent Spanish was not a problem as Rosario was fluent in English. When the vendors of our property caused some challenges, Rosario dealt with these quickly and efficiently, meaning we got the keys to our dream 'place in the sun' with minimal stress and delay.
The final bill was also a pleasant surprise: such good value for money. Thank you Rosario and Alex for all your help!"
Pauline and Howard
"Muchas gracias for everything. We're returning to Vejer in a couple of weeks and can't wait to begin enjoying our new apartment! All the best,"
Pauline and Howard
"What I would like to say is a big thank you to you all for the excellent help and service that I have received. I would certainly recommend you or use your services again should an occasion occur."
Mrs W, Surrey, UK
"Thank you so much Alex. You have been absolutely brilliant. We couldn't have prayed for a better solicitor :)"
Mrs M, Birmingham, UK
"Isabel, I thank you most sincerely for all the help and advice you personally provided to me and my family. It was most professional, diligent and caring, and we all greatly appreciated everything you did for us. We wish you well in your new venture and I personally have no doubt whatsoever that you will become hugely successful."
Dr. Michael Ashton (Phd), Sheffield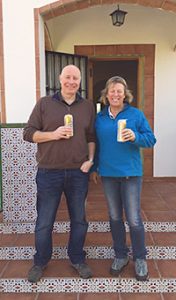 "We had used a previous solicitor when trying to buy a property a few months earlier. The property had a number of legal issues and we felt that these were not being explained to us and we did not know where we stood, and decided to pull out from the purchase.
Then having found the perfect property from the Place in the Sun TV programme and hearing Alex at one of the their seminars, I felt no hesitation to instruct them as our solicitors – we were delighted with the service. Nothing was too much trouble.
Everything was explained well – the process about buying, deposits, notaries, potential surveys and making a will. After we completed they even transferred all the utilities contracts into our name and set up the direct debits for us.
It was a pleasure to deal with a knowledgeable professional who could speak our language and understood our expectations when it comes to buying a place in Spain."
Ann & Chris Goodwin
"On behalf of my wife and myself, I would like to take a few minutes out to thank you for the manner in which you facilitated our move from the UK to Spain. Your total professionalism and dedication to detail made what could have been a worrying experience, a stress free and enjoyable one for us. We appreciate that the conveyancing rules and regulations in our adopted country differ greatly from those in England, so it was a great relief to have had you by our side during (and after) the entire process.
We also appreciated the vast amount of help you offered us in setting up our Spanish wills and the knowledge that they are safely in place is of great importance to us.
Our thanks also go out to your team as they were always there to offer advice and assistance with our questions.
We are currently deliberating on also buying a one/two bed flat near the beach in La Cala De Mijas as a hedge against a rising property market and little or no interest on our savings and you can rest assured that we will be requesting your help once again should this matter take fruit.
Kind regards to you and your team,"
Matthew and Myra McGuigan
"Isabel: Thank you for the very efficient and comprehensive service you provided in the purchase of my apartment. You made the whole process very smooth and easy to understand. I will no doubt use your services again."
Andrew Goodchild, Leeds, UK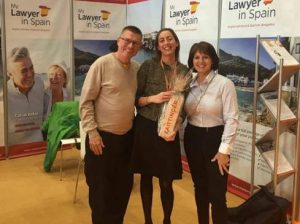 "Isabel is a charming, business-like and empathetic individual. Professional is not anadequate enough word to describe the support she provided to us, when we bought our flat in Pollenca, Mallorca during February 2016.
Isabel maintained her determined, clear and flexible approach. She kept the momentum going through a somewhat turbulent 6 week period, when all paperwork, house purchase and all legal formalities were completed. Isabel is Spanish so gladly liaised with local officials (e.g. Town Hall) to get things done.
In addition to being highly knowledgeable and experienced, Isabel speaks superb English. She is a credit to her profession and the firm of My Lawyer in Spain. We have utmost faith in her guidance and practical advice. Do not hesitate to employ this friendly and genuine lady – you will be as pleased as we have been".
Helena and Chris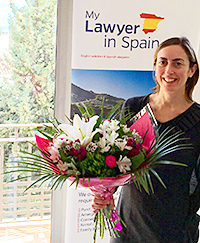 "Thank you so much for all that you have done for us, it has been very reassuring having you act on our behalf and we are pleased that you like the flowers. Wishing you all the very best."
Angela & Robin
"We would both like to thank you very much Isabel as we have no doubt without you this wouldn't have happened. We are both very grateful indeed. Martin was great today and made it a lot easier than we in initially thought".
Ivan
"I just want to say a huge thank you to Patricia and Alex. I could not have done this purchase of a Spanish property without you both. You have been amazing!"
M Ramsdale
Merry Christmas to you and your families. All the very best for 2017. I hope it brings you lots of health, wealth and happiness. Thanks again to you both for all you have done for us in securing our wonderful flat in Malaga.
Karen and Aidan
We had a Spanish legal issue to resolve and was advised to try My Lawyers in Spain. This was to be good advise.
Living in England we needed a legal representative to sort out this issue. This was to be a lady called Rosario (English and Spanish Lawyer), and she has provided us with step by step assistance and a clear approach to help resolve our distressing legal issue. This has now been resolved to our satisfaction and are very grateful for the peace of mind she has given us.
Fred
Very happy with the purchase of our Spanish property! Everything went as smoothly as anyone can expect a house purchase to go.
Your service was first-class. Both Alex and Patricia have been a pleasure to work with.
Mr & Mrs Gillingham
SaveSave
SaveSaveSaveSave
SaveSave
SaveSave
SaveSave
SaveSave