MLS involved in organising visit of HM British Ambassador to Spain
MLS were proud to be involved in organising the recent visit of Simon Manley CMG, HM British Ambassador to Spain, to the English Cemetery in Malaga and to the Brexit Conference in Marbella.
Mr Manley visited the English Cemetery in the morning where he thanked the Mayor of Malaga, Francisco de la Torre, for the generous donation from Malaga Town Hall for works to the retaining wall at the cemetery. After a tour of the historic and beautiful cemetery, the first protestant cemetery in Spain, Mr Manley met with local expat associations including Age Care, The Royal British Legion and the Foundation for the English Cemetery who are charged with preserving the English Cemetery, of which our own Alex Radford is a member.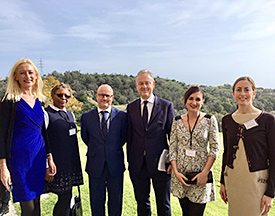 The British Ambassador then travelled to the Marbella Golf & Country Club where he participated in a Brexit Conference hosted by the British Chamber of Commerce in Spain and CIT Marbella which was attended by local businesses, expats, the British Consul for Malaga Charmaine Arbouin and the Mayor for Marbella Jose Bernal Gutierrez.
In our video interview, Mr Manley answered questions about Brexit with enthusiasm and promised that Britain would remain open for business and would protect expats living in Spain.
The MLS team had the pleasure of a photo with the Ambassador and Consul.