My Lawyer in Spain heading to A Place in the Sun!
For the 8th year running, My Lawyer in Spain will be again taking a stand at A Place in the Sun Exhibition taking place from 5 – 7 May in Olympia, London.
Whilst the outcome of BREXIT is yet unknown, the latest report from Lucas Fox showed that the British continue to make up the biggest proportion of foreign buyers in Spain (11%).
Alex will be taking part again in the Spanish Buying Seminar at the exhibition using his wealth of knowledge to talk about buying property in Spain.
Alex Radford said:
We are delighted to be at A Place in the Sun again this year and looking forward to advising clients on the best ways to move to Spain regardless of the outcome of Brexit. After the surprise referendum result, many British buyers are saying they will still buy a Spanish property because it is their dream and they cannot wait for politicians to sort out the Brexit aftermath.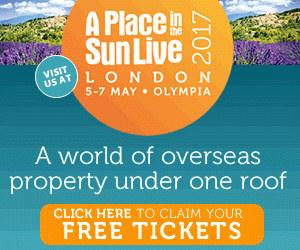 To obtain FREE tickets for the exhibition please follow this link.
And don't forget to come by the My Lawyer In Spain stand to collect your free information pack!