End of the Transition Period
We are delighted to be taking part in two events between now and the end of 2020 (and the transition period) so you can keep up to date with the information as it is announced.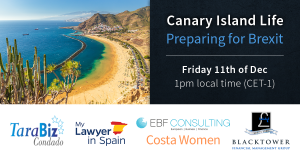 Canary Island Life: Preparing for Brexit
Join us online for the second in our series of webinars on Canary Island Life. This time we will be discussing Brexit and its implications for residents and property owners in the canaries.
Our live Q&A will cover a wealth of legal and financial subjects to make sure you are prepared for whatever comes next.
We will be joined by:
EBF Consulting
Tara Condado
Blacktower Financial Management
Costa Women
Register in advance for this meeting: zoom
After registering, you will receive a confirmation email containing information about joining the meeting.
We look forward to seeing you online.

Brexit and the End of the Transition Period
An open forum discussing Brexit, its implications and the final actions to take before January 2021, bringing together consular, legal and business perspectives. A panel of experts analyze the agreements already made between the UK and the EU, as well as practical advice across a wide range of disciplines in the case of a no-deal Brexit.
As the United Kingdom's departure from the European Union becomes more imminent , and with Andalucia being home to approximately 106,000 Expats, The British Chamber of Commerce assembles a group of highly experienced public and private professionals to review how their fields of work have been affected and what advice they are now giving to prepare clients and citizens for 2021. The discourse will highlight changes within both the European Community as well as the UK Expat population specifically, considering where action must now be taken by businesses and individuals before the New Year.
The speakers will be:
Moderator: Derek A. Langley, Andalusia Regional Vice-President of the British Chamber and President at Andalucía Technology Recruitment.
Charmaine Arbouin, British Consul of Andalusia, Canary Islands, Ceuta and Melilla. Overwiew of Brexit and the Transition
Alex Radford, Founding Partner at My Lawyer in Spain. Residency: the specifics
Miriem Diouri García, Partner Director at MDG Asesores. The European Community and Tax Issues
Sandra Wrightson, Partner and Academic Barrister at De Cotta Law. Debt, and the Possible Repercussions of a No-Deal Brexit
Register in advance for this meeting: Ticket
One Response